Weddings At The Penthouse
| BY TASHA CARATTINI | February 10th, 2023
It's February and we can't help but get those butterflies when we think of all the amazing love stories we get to bear witness to over the course of the year. Love isn't born within these walls, but it does deepen as our couples embark on a new chapter and strengthen the ties that bond.
If you are new here, chances are you are on a similar path with your partner, and we couldn't be more excited for you! Of course, you have the Penthouse team and your other vendors to guide you, but we reached out to a few of our couples to get the inside scoop on their best tips, tricks, and advice for the perfect Penthouse wedding.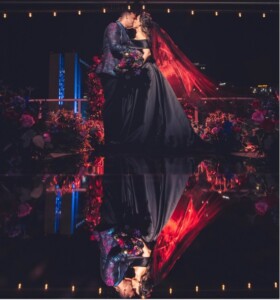 What was your favorite part of getting married at The Penthouse?
Our bride, Unicee, who was married in October of last year said, "My favorite part was the feeling of having our own rooftop, it's such a spectacular view of the city!". The views from the rooftop are, more often than not, why our couples say 'I Do' to The Penthouse. So many guests are blown away once they come off those elevators. Another client said of the views "You're surrounded by the city, and it feels so electric and glamorous."
If you could recommend one thing from your wedding set-up to future couples, what would it be?
Alyssa, who got married here in December of 2021 remarked "I feel so good about the floor plan we had, having the dancefloor inside surrounded by tables made it feel like an intimate nightclub. Also, any ceiling install over the dance floor is definitely the move! Fills the space and feels like luxury.
If you could change something, what would it be?
It's inevitable not to look back and pick at little things we would do differently, as a Penthouse bride myself, I think what caught me the most off guard is how overwhelming it is to have that many people solely focused on you and wanting your attention. That had never happened to me, and one of the most visceral memories for me was being pulled 50 different ways by people (whom I love) who understandably wanted to spend time with me on such a special day. If I could change something I would steal away more intimate moments with my husband…dance more with him and honestly not leave his side. I feel like we barely danced or saw each other (granted the memories are fuzzy thanks to the never empty mojito glass I held on to all night) and it time goes faster than you realize.
Advice for Engaged Couples?
When we read the responses to this question, we couldn't just pick one to highlight. Here are some final morsels of advice from couples who have stood where you are standing.
o It's all worth it! Planning a wedding is joyous but it is also a lot of blood, sweat, and tears—keep pushing forward and it will be here before you know it!
o Don't get overwhelmed by the trends or feel like you need to fit into a box, let your story and personality shine! Wear the colored wedding dress, have a bell to ring for Diet Coke if that's what you like. Those details are where it transforms from a wedding to your wedding.
o You don't need to invite everyone you (or your family) knows, make sure your guest list includes those who love and support your union—you can leave the judgmental Tias off the list!
o Invest in vendors that come recommended and know the space, you may save some money going with someone else you find on the cheap, but you cannot turn back time and rewrite the experience if it doesn't go as promised on the day of.
o Above all, remember this day is for you both, by you both. When the planning gets stressful, come back to that simple truth.
In many ways, navigating the planning of a wedding is a lot like navigating the ebbs and flows of a marriage; there will be times when you want to cry (or scream) and times where you are laughing till your stomach hurts. It is in the hardest times that your bond is fortified, you will be faced with decisions you both don't agree on and through discussion, compromise and love it will all come together.
With Love,
The Penthouse Ladies
Book Your Dream Event
TELL US MORE ABOUT YOUR VISION
Follow on #social:  Facebook @Penthouse Riverside Wharf | Instagram: @PenthouseRW | #ASpaceAboveOthers
The Penthouse Riverside Wharf is located at 125 SW North River Drive, Miami, FL 33130.
For venue rental inquires,Melissa Montez, Venue Director 305. 400.1900 via email at: [email protected].